I help SaaS businesses drive growth that matters.
Passionately-curious digital native | Marketing Leader | Experimentation Advocate
Hi there, I'm Josephus Ajibola Ayoola, f.k.a Joey.
I currently lead the digital marketing efforts of the TMS business unit at Alpega Group. I also lead the growth efforts at AfriGuild, aimed at onboarding the next billion users into web3 via crypto gaming.
As a seasoned marketing and growth professional with extensive, practical experience in helping businesses drive growth that matters through tested digital strategies, I help corporate & startup teams acquire, engage, retain and monetize users.
When I'm not busy with my 9-to-5 or providing growth advisory & coaching for other SaaS companies, you'll find me exploring conversations around value-investing, the future of tech & marketing, and exciting destinations.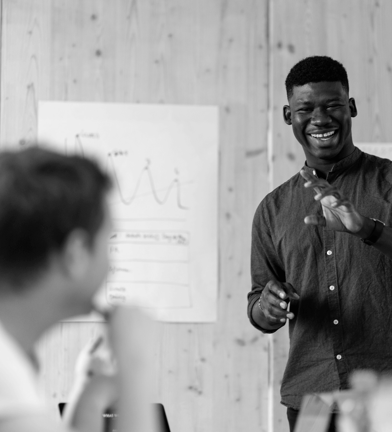 Digital Strategy & Advertising
9+ years of experience driving online marketing on a large scale! Applying a growth hacking mindset to digital marketing campaigns and managing the whole process from ideas on paper to measuring ROI & scaling the process is what I do well. Consistently staying in the know of the latest trends in digital marketing is my daily diet.

Business Venture Validation
Validate the riskiest business ideas at record speeds! Through rapid experimentation and user testing, I help startup and corporate teams validate if their (new) venture idea(s) is ready to go to market and scale. This process involves implementing various entrepreneurial tools and an agile way of working.

Growth Hacking & Program Management
6+ years of experience driving product growth across key loop(s). Breakout growth happens when you experiment across all growth levers, and this requires close coordination between marketing, product, engineering, UX, data, and design teams… My experience working with diverse groups and technical know-how gives me the edge of working cross-functionally effectively to experiment, accelerate value delivery, and drive sustainable growth.

Working & Living Agile
Thinking like an artist & acting like a scientist | Life-long learner! Agile describes the approach to my personal & professional development. I love getting in the classroom, doing keynotes, or even delivering workshops. I work with teams that embrace the power of extraordinary openness and enjoy challenges.
What they say about me
Selected testimonials & reviews from previous colleagues and clients.
"Joey brings positive energy to his environment and is not afraid of taking ownership. This makes the team better and increases trust and transparency.
Overall, Joey is an incredible full-stack marketer with stakeholder management skills that will bring a ton of energy and fun to your team. I'm proud to be able to call Joey my friend."
- Frederik Vandenweghe
Co-Founder, Cosmos Collective
"Above a great attitude, Joey for sure knows how to promote products & services through digital channels and campaigns.
I recommend Joey to any team or company looking for effective digital marketing. Fresh ideas, professional customer service, and a lot of fun are coming your way!"
- Thomas Joos
Founder & CEO, Hypernova

"It was a big pleasure to work with Joey on this project!
Joey's explanation of the concepts and platforms was very clear and easy to understand. And we were able to take action and improve with the information and knowledge shared in the workshop. I would happily recommend Joey to anyone looking for help with growth hacking and paid ads.
Thank you, Joey! It was a fantastic experience to work with you on this :)."
- Camilla Kehlert B. Petersen
Sales & Marketing Manager at Falcony
Subscribe to my newsletter
Want to work together and drive sustainable growth? Let's talk.